Daniel Ricciardo topped the timesheets and the lap count on the first day of pre-season testing at the Circuit de Catalunya, as the Toro Rosso-Honda relationship got off to a good start.
The Aussie's time of 1:20.179, set on medium tyres in the latter stages of the morning session, was 1.6 seconds faster than the best time on day one last year – set by Lewis Hamilton on the softs – and Ricciardo went on to smash the 100-lap barrier in wet conditions late in the day.
Reigning World Champion Hamilton took over driving duties from Valtteri Bottas – who finished the opening day P2 – in the afternoon, but running was increasingly affected by cold, windy then wet track conditions which limited the Brit to just 25 laps and P7 on the leaderboard.
As Kimi Raikkonen rounded off the top three on a low-key, stress-free day for Ferrari, there were also strong showings from Renault and, more impressively, Toro Rosso, who are off to a strong start with the not always reliable Honda.
Nico Hulkenberg, P4, and Carlos Sainz, P6, shared sessions and posted up 99 laps between them over the eight hours, while Toro Rosso's Brendon Hartley had 93 laps to his name before finishing P8 in the standings. Already a huge improvement on the disastrous test Honda had with McLaren in 2017.
However, Fernando Alonso's first day back at work did not get off to the best of starts again after a loose wheel nut saw him spin violently off into the gravel and be restricted to just 10 laps of running in the morning session.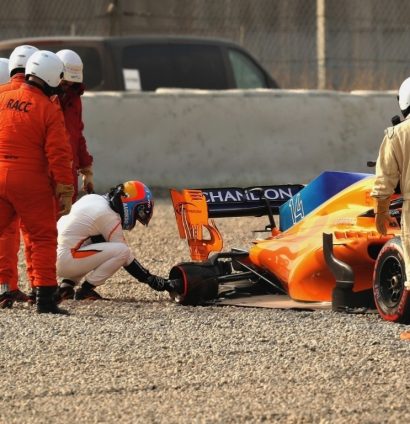 He was able to make up for some lost time in the afternoon, though, heading out for a further 40 laps (taking a few shortcuts along the way) before going back to the McLaren garage in P5.
Lance Stroll and Romain Grosjean completed the top 10 for Williams and Haas respectively, but both teams ended their programmes early due to the worsening weather.
The decision left new Williams recruit Sergey Sirotkin with just 21 laps under his belt, just one fewer than Nikita Mazepin, who caused the second red flag of the day when spinning out in the newly-unveiled Force India VJM11, which did not return to the track at all for the afternoon session.
More bad weather is expected over the course of the week with rain forecasted to wreak havoc with each team's proposed plans.
Day Two is scheduled to begin at 0800 GMT.
Day One timesheet
1) Ricciardo, Red Bull, 104 laps, Medium tyres – 1:20.179
2) Bottas, Mercedes, 58 laps, Medium tyres – 1:20.349
3) Raikkonen, Ferrari, 80 laps, Soft tyres – 1:20.506
4) Hulkenberg, Renault, Medium tyres – 73 laps, 1:20.547
5) Alonso, McLaren, 50 laps, Supersoft tyres – 1.21.339
6) Sainz, Renault, 26 laps, Soft tyres -1:22.168
7) Hamilton, Mercedes, 25 laps, Medium tyres – 1:22.327
8) Hartley, Toro Rosso, 93 laps, Soft tyres – 1:22.371
9) Stroll, Williams, 46 laps, Soft tyres – 1:22.452
10) Grosjean, Haas, 55 laps, Soft tyres – 1:22.578
11) Ericsson, Sauber, 63 laps, Soft tyres – 1.23.408
12) Mazepin, Force India, 22 laps, Medium tyres – 1:25.628
13) Sirotkin, Williams, 27 laps, Soft tyres – 1:44.148