It began as a boyhood friendship but, over the course of their four years together at Mercedes, it blossomed into one of Formula 1's best rivalries.
And now it is over, cut short by Nico Rosberg's decision to retire for Formula 1 just days after finally beating Lewis Hamilton to the Drivers' Championship title.
We said we'd be champions back then, now we both are! Congratulations Nico, you did everything a champion needed to do. Well deserved ?? pic.twitter.com/CIFPw1K2Fq

— Lewis Hamilton (@LewisHamilton) November 30, 2016
Malaysia 2013
Almost from the get-go it was evident that Mercedes would have a battle on their hands with two fast and ambitious drivers at the wheel.
In Malaysia, Hamilton raced to his first podium as a Mercedes driver after Rosberg was told to hold station behind his team-mate.
It was a false-positive for Mercedes as it hinted at a smooth relationship, and it was – for that first year at least.
Monaco 2014
After the banned engine mode drama of Bahrain and Spain – both races won by Hamilton – the relationship between the two sides of the garage took a turn for the worse in Monaco.
In the closing stages of Q3, ahead of Hamilton on the track and on the timesheets, Rosberg made a mistake at Mirabeua that brought out the yellow flags.
His error meant Hamilton was forced to slow down on his hot lap, costing the Brit pole position.
Rosberg was cleared of any wrongdoing by the stewards but Hamilton maintained that Mercedes data proved that it was a deliberate oops.
Hungary 2014
A Safety Car midway through the grand prix assisted Hamilton in his recovery from a pitlane start, the result of an engine failure in qualifying.
On a different strategy to Rosberg, the German closed up with pace prompting Mercedes to ask Hamilton to move over. He refused to, adamant that Rosberg should pass him if he had superior pace.
Hamilton finished third with Rosberg incensed and off the podium.
Belgium 2014
Rosberg attempted to pass Hamilton on the second lap at the Spa-Francorchamps circuit and instead made contact.
Hamilton was left with a puncture and later retired while Rosberg was on the podium.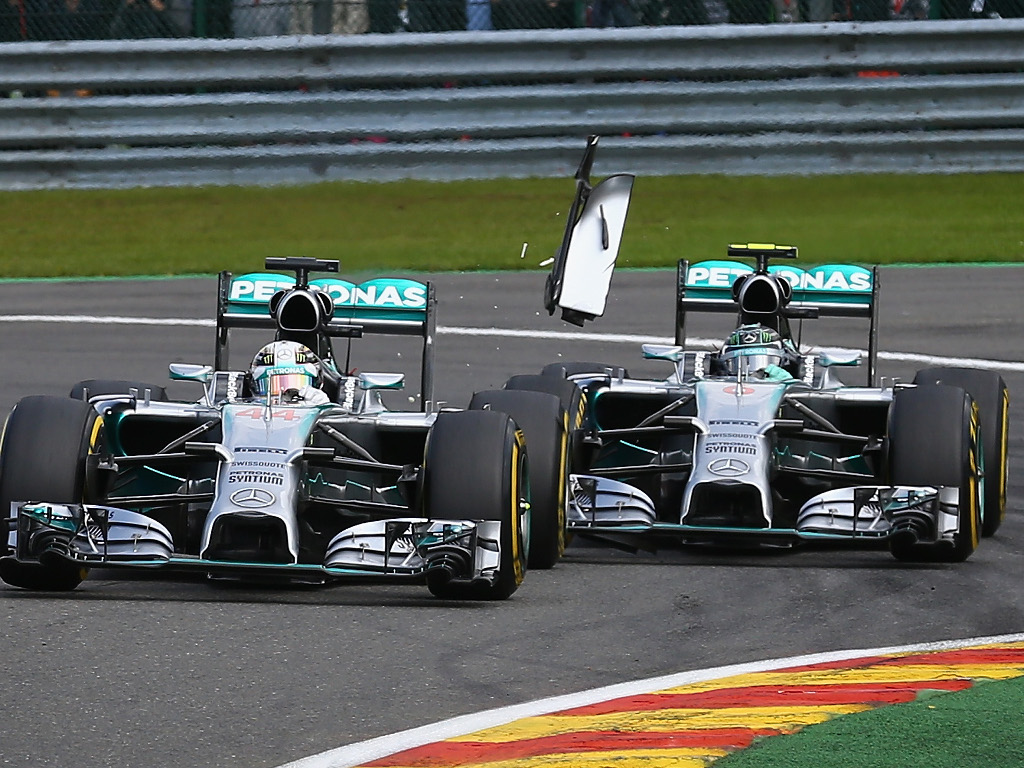 Mercedes blamed the German and sanctioned him with some speculating that Hamilton's ensuing run of five wins on the trot was the result of the punishment.
China 2015
For the first time, but would prove not to be the last, Rosberg accused Hamilton of backing him up.
Racing 1-2 with Sebastian Vettel hot on their heels, Rosberg urged Mercedes to tell Hamilton to pick up the pace as he felt his race was being compromised by his team-mate.
Rosberg later said: "I didn't feel [my race was compromised], it was a fact that my race was compromised and it's a scenario we went through before the race."
Hamilton's response: "It's not my job to look after Nico's race, it's my job to manage the car and bring the car home as healthy and as fast as possible. That's what I did."
America 2015
Hamilton arrived in Austin well aware that a race win would guarantee him a third World title.
He aggressively forced Rosberg wide at Turn 1 to take the lead. It was, however, Rosberg who was leading later in the grand prix only to make a mistake at Turn 12 that allowed Hamilton back into P1. He won the race and the title.
Rosberg's frustrations boiled over post race when he aggressively threw a cap at Hamilton.
Spain 2016
Rosberg took the lead at the Barcelona circuit only for Hamilton to fight back.
That coincided with the German going into an incorrect engine mode due to an switch error, which meant he was slower than Hamilton.
The Brit tried to slide up the inside but Rosberg shut the door. Hamilton went onto the grass and spun into his team-mate taking them both out of the race.
It was deemed a racing incident but months later Hamilton revealed there was more to the story.
He said: "I look at Barcelona for example this year, it was a massive low for me. There's things that you won't know until I retire that I'd tell you what I experienced."
Austria 2016
Rosberg was on course of the victory at the Red Bull Ring only for Hamilton to launch a late attack with the end result being contact for which Rosberg was blamed.
With better drive into Turn 2, Hamilton went around the outside of Rosberg before turning in for the corner.
Rosberg went straight on.
The impact forced Hamilton off the track and left Rosberg with a damaged front wing.
#AustrianGp #Hamilton #Rosberg Crash last lap… pic.twitter.com/n572ffuvlF

— Hijitus (@Hijitus2016) July 3, 2016
Hamilton took the win with Rosberg fourth at the line, and fourth after his penalty.
Hamilton had the last laugh: "Today I drove as wide as possible, I left a lot of space, three cars could have come on the inside of me there.
"I was just thinking I want to overtake this guy with my every breath. I'm smiling now because I did everything I could in the right way."
Mercedes issued new rules of engagement for both drivers with a threat of punishment if they ever make contact again. They never did.
Abu Dhabi 2016
Backing up again came into play in the title-deciding season finale in Abu Dhabi where Rosberg needed a podium result to win the World title while Hamilton, who was leading the race, needed his team-mate P4 or lower to win it.
Backing up Rosberg, who complained to Mercedes, Hamilton was instructed by Paddy Lower to pick up the pace, who told him that if he didn't he would put the race win in jeopardy.
He replied: "Right now, I'm losing the World Championship, so I'm not bothered if I'm going to lose the race."
Despite Hamilton's best efforts, Rosberg held on to finish P2 thereby winning his maiden F1 World title.
Five days later he retired from the sport.
The end, literally