Sat: Ferrari, Mercedes, Red Bull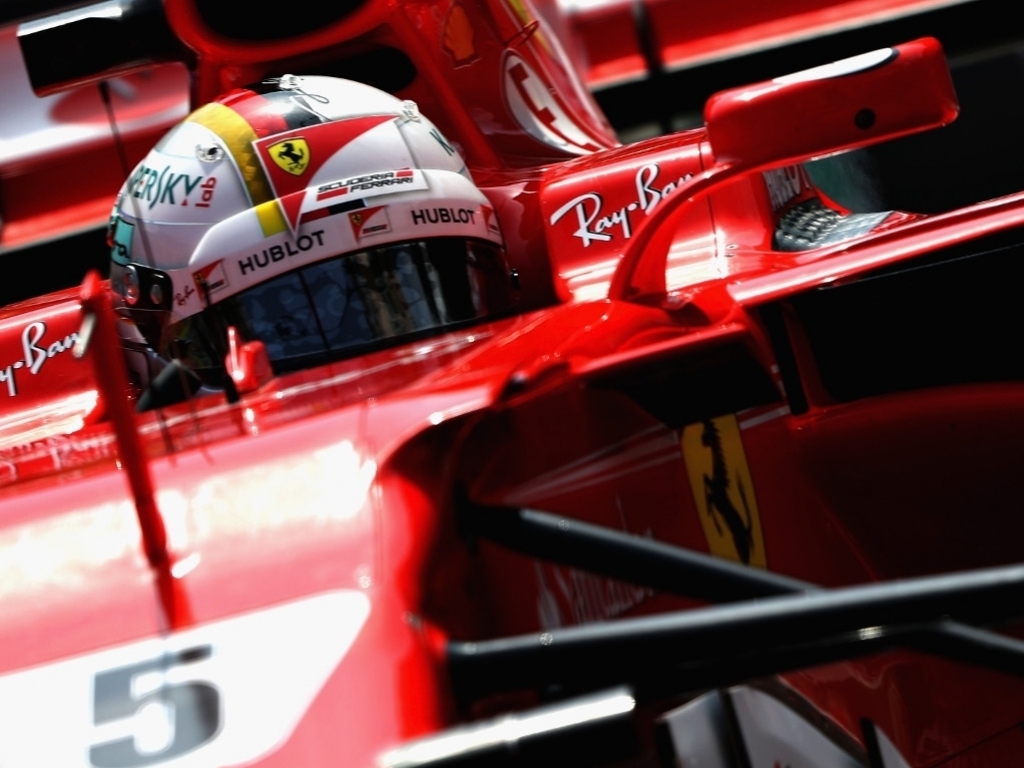 Kimi Raikkonen ended a nine-year wait for a pole position but it was disaster for Lewis Hamilton with a Q2 exit.
Ferrari
Kimi Raikkonen: "It's great to be on pole position, this is one of the races where it is probably most important to be at the front. Half of the job is done, but we still have a big challenge in front of us tomorrow. So far so good, I'm happy with the car. This is a very special place, it's been a bit tricky to get everything working as we wanted, but in qualifying things fell into place: and very small things make a massive difference in the lap time here . We got it right, the team put me in a very good position every time; things were running smoothly and hopefully tomorrow we can get a great result with both cars. We have to make a good start and try to stay out of trouble. It's quite a short run to the first corner, cars are wide and it's tricky to pass. We'll try to do our best, but it's not going to be easy, as many things can happen out of your control. The most important thing for me is to be in the same position tomorrow when it comes to the end."
Sebastian Vettel: "I am not happy with myself because pole position was up for grabs, but it's great for the team. If I had to give up pole position and hand it to someone, I would choose Kimi. I am happy for him. He did a very good job in qualifying. As I said, it's been fantastic for the team, but I am not totally happy with my performance today. I should have done a better job overall. The car was good, so it was my mistake. I was a bit too greedy in my last run. Now it is impossible to make predictions for tomorrow, all we have to think about is the start, the pace, the strategy, and then try to put everything together. So, we are going to prepare for the race as usual."
Mercedes
Valtteri Bottas: "This weekend has been a bit tricky for us. We started well in FP1 before getting a bit lost with the set-up in FP2. Then it was difficult to get a lap together in qualifying as well. It takes two to three laps to build the temperature up and find the right balance and feel for the car. It was very close today but Ferrari seems to have the upper hand here – they were very strong this afternoon. Of course it would be nice to start on the front row but anything is possible from P3 on the grid. It's difficult to overtake here but it's definitely a race of opportunity. Tomorrow is Monaco, where anything can happen."
Lewis Hamilton: "I really struggled with the car today and I just don't think the opportunity was quite there for me. It was a little bit unfortunate with the yellow flag, but it doesn't really matter now if I could have gone faster. I think that lap may have just got me into the top 10 but I would have struggled to make it into the top five with the pace that I had. Valtteri didn't have any struggles today so I'm a bit confused and I can't pinpoint the problem at the moment. I'm feeling pretty deflated right now but I'll try again tomorrow. It's great that Valtteri extracted a good lap. We just need to identify why I wasn't able to be up there too. Onwards and upwards."
Red Bull
Max Verstappen: "I think in Q3 my fast lap was optimal. I was struggling a little bit with front grip so I couldn't get the tyres to work how I wanted but in the end we were not too far off. It is always nice to be closer but I think the lap I did was pretty much on the limit. The Ferraris have looked good all weekend and Bottas managed to sneak in between us which was a bit of a shame. With a clean start and a good strategy we can be in the mix. Monaco is unique and it is hard to predict how the race will play out, there could be a safety car or stoppage at any time so we have to wait see. I will keep an eye on how the tyres behave and pit when we think it is the right opportunity. That is something you have to feel during the race. Being close to the top three means a podium is within reach, but tomorrow I am going to concentrate on my race and try to finish, I want to break the 'curse' I have around here!"
Daniel Ricciardo: "It was a frustrating one for me today, as I think we could have done better. In Q3 we did one lap and we needed to push hard on the out lap to really get the tyres ready and warm, the ultrasofts are not that soft here and need to be worked hard. We came out and had cars in front of us and it seemed like I had a gap behind me, I don't know why we didn't wait for that gap so that I could push in the out lap. So I started the lap with the tyres not where I wanted them and obviously around here that's a big thing, as is getting it right in Qualifying. However, we will see what happens tomorrow."