Sat: Williams, Force India, Renault, Toro Rosso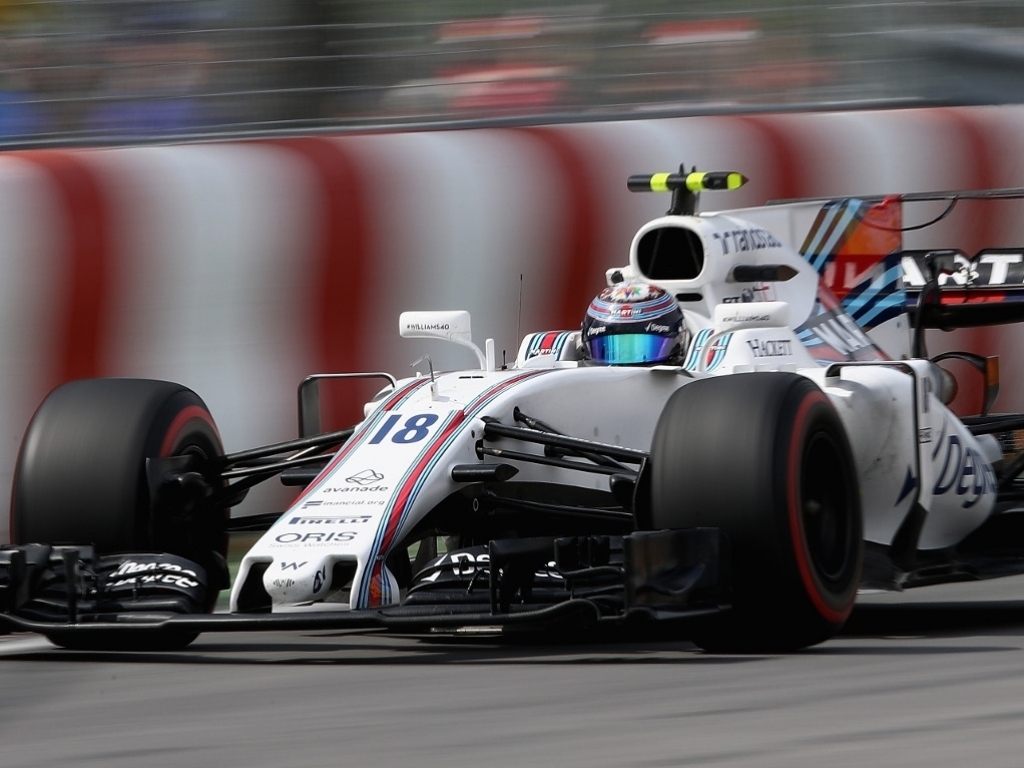 Lance Stroll failed to make it out of Q1 at his home grand prix as Force India secured two cars in the top 10.
Williams
Felipe Massa: "It was a great qualifying session for me. I'm very happy with everything we've done this weekend and I'm very happy with the lap. We were competitive today, but seventh was the best position we could have achieved. The race is tomorrow though, and I was quite happy with the pace in the race simulations yesterday. I'm looking forward to the race as I think we have good pace to be able to fight and score some good points."
Lance Stroll: "We went out at the beginning and stayed on the same set of tyres the whole session. I felt the grip was getting better, but I think the track was just improving. I think the decision not to pit for new tyres towards the end of Q1 had a bit to do with me not getting through, but it is too hard to say. You can always look back afterwards and say we should have done this and we should have done that, but we are in the position we are in. Obviously, we are starting a little bit further back than we would want to, but it is a long race, overtaking is possible and you never know what will happen. We have to stay focussed and positive. This is my first home Grand Prix, which is great and I am aiming to enjoy it."
Force India
Sergio Perez: "I am pleased with our performance today. The car was giving me confidence and my flying laps were clean and tidy. Eighth is a good position to start the race and, even though the strategy options will be quite limited on this track, I am confident we can come away with a decent result. It will be a close fight with the cars around us because the gaps are small, but our race pace looked good yesterday so we should be competitive."
Esteban Ocon: "I'm pleased with today. The car has been strong since FP1 and we've done a good job in all the sessions by always moving forward and improving the car with each run. It's also a new track for me so I've taken things step-by-step and built my confidence with the car and the track. I really enjoyed qualifying – pushing more and more through the chicanes and getting closer to the walls. It's an old-school track and definitely a challenge for the drivers. To start from ninth means we are already in the points and I have a good feeling for the race. The priority is to get a clean first lap, stay out of trouble and find a rhythm to make the most of our competitive race pace."
Renault
Nico Hulkenberg: "I am quite pleased with P10, I think this is as good as it could get for us this afternoon. Yesterday it looked like we had quite a bit of work to do, then this morning looked much better. Now we have to put our heads down, push hard and work for some points tomorrow."
Jolyon Palmer: "I had a tidy lap, which I was happy with in Q1 and the car felt good. For some reason in Q2 I wasn't able to find enough grip or get the tyres turned on and I ended up with a slower lap. I'm pleased to be back in Q2, but disappointed not to be further up the order. We know the tyres are pretty sensitive so we just have to get on with it in the race. This is a track where you can overtake and you often see safety cars so hopefully things go our way tomorrow."
Toro Rosso
Danill Kvyat: "I'm pleased with today. The car has been strong since FP1 and we've done a good job in all the sessions by always moving forward and improving the car with each run. It's also a new track for me so I've taken things step-by-step and built my confidence with the car and the track. I really enjoyed qualifying – pushing more and more through the chicanes and getting closer to the walls. It's an old-school track and definitely a challenge for the drivers. To start from ninth means we are already in the points and I have a good feeling for the race. The priority is to get a clean first lap, stay out of trouble and find a rhythm to make the most of our competitive race pace."
Carlos Sainz: "I'm disappointed with today's qualifying result. It's a shame because after FP3 we finally got to show some performance and we were definitely in a good position for a better lap this afternoon. Unfortunately, qualifying was just full of trouble and the yellow flags disrupted my timed laps in both Q1 and Q2 and I was therefore not able to improve my lap time – I think a 13.4 or 13.5 was possible. P13 is definitely not where we wanted to end up today, but there's not much I can do about it now. On the positive side, the car behaved pretty well and I feel comfortable – I'm confident and ready for the race: last year we started P16 and managed to recover and score some points, so this means tomorrow could be a similar story… We will push hard and never give up, that's for sure!"