Saturday quotes: Mercedes, Ferrari, Red Bull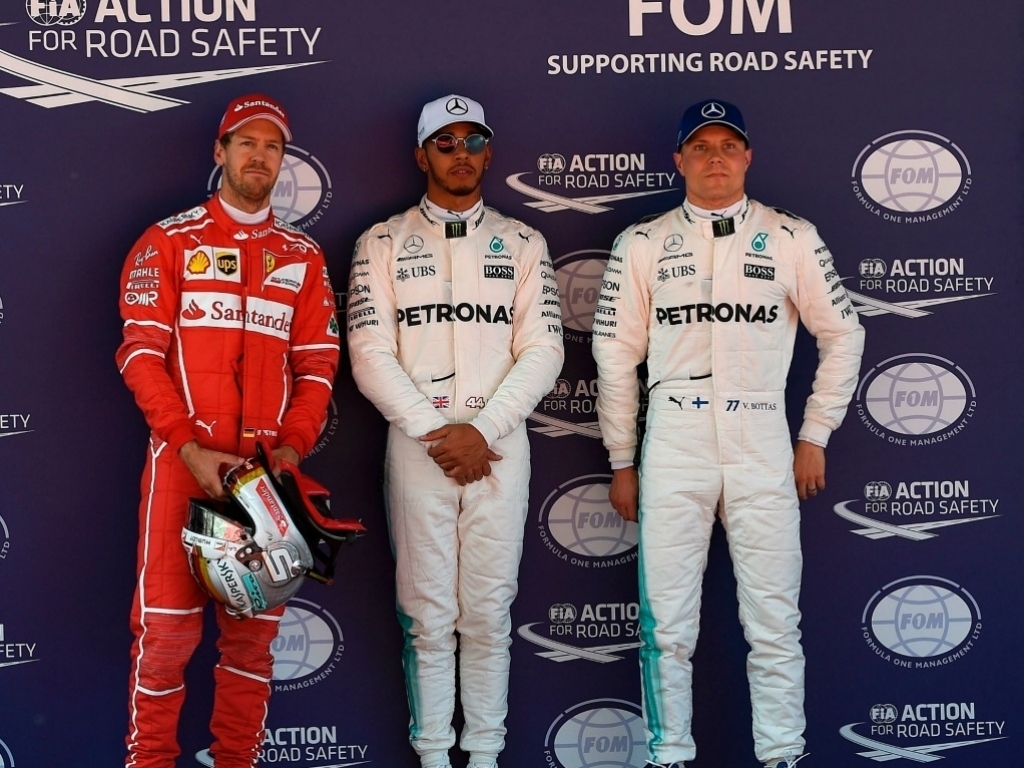 Lewis Hamilton pipped Sebastian Vettel to pole position, with Red Bull assuming their regular spots on the third row.
Mercedes
Lewis Hamilton: "That was a really intense qualifying. We had to pull out every millisecond we could to take pole. We made some changes ahead of qualifying and the car felt great, so I was very happy with it. The race pace is looking good and the team has done an incredible job this weekend, as always. I don't know if the guys back at the factory get tired of hearing this, but they've done an incredible job. To make this step forward and bring a great package for this weekend to keep us in the fight with the Ferrari, I'm so grateful to them. We'll work as hard as we can on Sunday so that effort doesn't go to waste."
Valtteri Bottas: "For most of the weekend we've had the edge on Ferrari but in Q3 they raised their game. For me starting the day with the engine change and moving back to the old engine, I was always going to be on the back foot. I really struggled through qualifying with the rear stability of the car, so it was difficult to find a good rhythm. It wasn't one of my best qualifying sessions but I'm happy with the job that the team has done. You could see Lewis was very strong and quick today. It's a shorter run down to Turn 1 than in Sochi, but we've seen in the past that you can make positions from the second row. I've done some good things from P3 before. Everything is still wide open. We're happy with the race pace and upbeat for tomorrow."
Ferrari
Sebastian Vettel: "I don't know how the mechanics did it. It's a lot of work to put together. I want to say a big thanks to the team. This morning we couldn't do what we wanted to. We know the track and the car, and I know that it is working. In the end we could have got pole position, but I missed the apex at the chicane. I was a bit late and lost a bit of time there. But, overall, putting the car on the front row is a massive success. I think we worked really well. We realized that there was an issue and that we could fix it. Tomorrow, with the race rhythm, it will be fine, because when you get into the pace it is easier. A good start looks always good, so we'll see, but I am confident for tomorrow and I always try to keep a smile."
Kimi Raikkonen: "The car has been working well the whole weekend and I'm happy with that, but I'm disappointed with the qualifying result. Track conditions were a bit tricky today, better than yesterday though. Although I felt I had a lot of speed I struggled here and there, making small mistakes, hitting the kerb, running wide, so I did not put a good lap together. Tomorrow we'll try again. We can make hundreds of different plans for the race, but there's no guarantee things will run as we wish. We know the strategies of our two cars, but we don't know what the others will do. We'll try to react in the right time and take the right decisions. The length of the DRS area has been increased: we don't know if it will make a big difference, but it's probably going to help a little bit."
Red Bull
Max Verstappen: "That was a very good qualifying, it went very smoothly and we had no issues and I think the lap was spot on. The car was definitely the best I have had all season and I was very pleased with the balance today. To be just under six tenths back from pole position is a good achievement and we should be very happy with that compared to one and a half seconds back in Sochi. The team has worked really hard to get the updates ready for the car so a massive thank you to them. We have been studying the upgrades all week to understand the package and how they would work, once we got the setup sorted and I was able to get comfortable it resulted in a good combination and successful Qualifying. It is a good step forward and has given us a solid platform to build on for the rest of the season. As always we will keep pushing and try to close the gap even more. It is always nice to come back to Barcelona, I have driven a lot of laps here and it has been kind to me. Like we saw last year, you never know what can happen on race day here, our long run pace looks ok so let's wait and see."
Daniel Ricciardo: "Even with the upgrades we didn't expect to come here and get pole today and I'm still about a second off the leaders in qualifying, but Max was a bit closer which is good for the team. Personally I was struggling in the last sector, especially at the last two corners. I just wasn't able to carry enough speed through the chicane which is where I lost most of the time. For the rest of the lap I felt we did all we could and now we have a pretty good balance in the high speed corners. There is more potential in the car which we need to unlock but we have definitely found something this weekend and the gap to the leaders looks to be closing a bit. In the race it would be nice to get on terms with Ferrari and Mercedes but I think the main battle will be between Max and myself. Maybe we will even look at trying something different and splitting the strategy across both cars to put a bit of pressure on the top two teams. It should be an interesting race."