Sun: Toro Rosso, Haas, Williams, Renault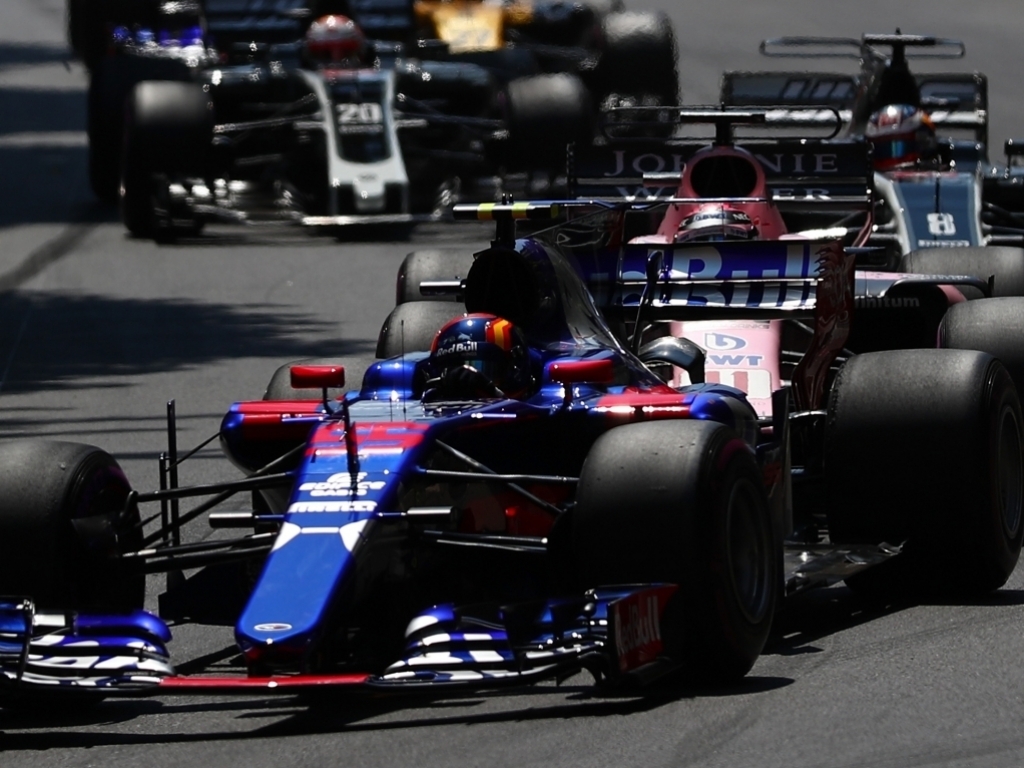 There was a double points finish for Haas in Monaco, but Lance Stroll suffered yet another retirement.
Toro Rosso
Carlos Sainz: "What a result, what a perfect weekend! We need to enjoy this moment, because it's not usual to achieve a faultless Grand Prix on the streets of Monaco – and this time we did! We put in good laps in practice, in yesterday's qualifying session and, in today's race, we were able to keep a World Champion in a faster car behind and finish P6 – it definitely feels so good! We've also been quicker than the rest of the midfield throughout the whole weekend and I'd like to thank the whole team for this, they gave me a very good car to drive! I really enjoyed today's race – now it's time to celebrate this well-deserved result with the team before starting to think about the Canadian GP, which is up next!"
Daniil Kvyat: "How annoying! Unfortunately, Perez just drove into me, trying a very desperate move, and he ruined our race. It's even more frustrating because I was feeling good in the car, it was just getting better and better and until that moment I was fighting for points, running in P9. It's been a challenging weekend, but it could've ended up with a positive outcome if the crash hadn't happened – every time we were in free air we were very competitive! Let's hope we have a better end to the race next time out in Canada."
Haas
Romain Grosjean: "It's the first time we've had two cars in the top-10, so that's really good, especially in Monaco. It was a tough race. We didn't have the pace to stay with the first few guys. Unfortunately, nothing was happening at the front, it was all behind me. Every time a car retired it was behind me. Lewis (Hamilton) had some free air, and then managed to jump us at the pit stop. It's great to have the two cars in the points. We managed to stay out of trouble and I drove as fast as I could. There's a lot more we need to analyze and understand, but we're growing as a team."
Kevin Magnussen: "Personally, I had a very disappointing race. I had a puncture, but to still finish in the points with both cars is a really good job from the team. They really deserve this. I'm happy we got it. Even though it's just one point, it could've been a lot more. I feel like I've had the most unlucky season of my life, but at least today we got both cars in the points and I'm proud of the team for that. It's Monaco, and a lot of things can happen. There's no reason to give up, you still push, and that's what I did. I kept pushing."
Williams
Felipe Massa: "I'm happy with the result and scoring points today. We had brake issues from the start and I had to manage them from the very first lap. I've never had to do that before in my career! At the end, I could see Perez trying to pass me on his fresh tyres and I thought 'stay here and just try to get some points', which is exactly what happened. My experience as a driver definitely helped me to get points today, so I'm very happy."
Lance Stroll: "I was driving OK but then we had an issue at the end so we had to stop. Unfortunately, these things happen, especially at Monaco. There were several incidents, which meant that the tyres lost temperature and it was really hard to get that back. But the next race is my home event and I'm feeling positive going into that. It's going to be very special to go home and to know that our car can be strong there."
Renault
Jolyon Palmer: "I'm happy with the race, the pace was pretty good and there were no mistakes. I enjoyed it; to hustle the car around Monaco for 78 laps was great and the tyres were hanging on, so you could really push the whole way through, which was stellar. It's pretty hard to overtake here, so eleventh from P16 was it, and just one second away from getting the first point of the year! It felt much better than P11 and we can take this momentum to Canada."
Nico Hulkenberg: "I think a few points were possible today. We were comfortable in P10 and there was definitely potential to make some places. The thing about Monaco is you have to stay in the game and I think ninth or even eighth was possible had we been able to do that. It was pretty sudden. I saw smoke coming out from the back of the car and the team told me to stop the car; diagnosis, gearbox failure. As a driver it's disappointing but it certainly doesn't detract from our potential. We'll bounce back in Montréal."