Thursday's FIA press conference – part two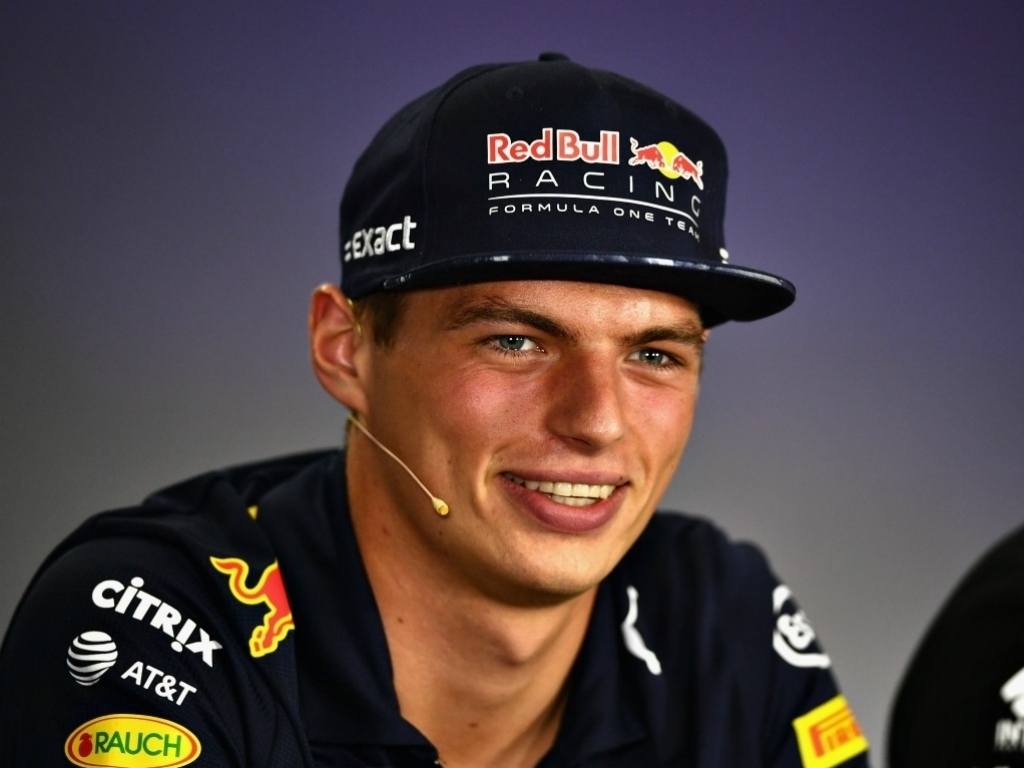 Max Verstappen, Sergio Perez, Stoffel Vandoorne and Kevin Magnussen are quizzed by the press ahead of the Hungarian Grand Prix weekend.
PART TWO: DRIVERS – Max VERSTAPPEN (Red Bull), Sergio PÉREZ (Force India), Stoffel VANDOORNE (McLaren), Kevin MAGNUSSEN (Haas)
Q: Session one we had a lot of talk about the implementation of the Halo cockpit head protection in 2018. I'd just like to get each of your thoughts on that. Perhaps we could start with Max.
Max VERSTAPPEN: OK, yeah, I don't like it but of course at the end of the day you have to respect the decision of the FIA. I think since we introduced the Virtual Safety Car, that reduced a lot of risk when you are speeding under the yellow flag in the race and then also with the wheel tethers, they are quite strong at the moment so I don't think you will lose a wheel very easily, and when there are parts flying around from the car, it's not really going to protect you. So, I don't really understand why we should need it.
Sergio?
Sergio PÉREZ: I'm in favour of it. Whatever has to do with safety, safety always comes first. I think if we had the Halo by now, the last six, seven years it will have saved at least a life. That's worth the risk that the FIA is taking with that. I think once we implement Halo the teams will improve. I think Halo needs a lot of work by now – but I'm sure the system will be improved a lot. We have very clever engineers in Formula One and now that all the teams know that it has to be in place for next year, I believe they will improve it a lot.
Kevin, your thoughts?
Kevin MAGNUSSEN: I'm also against it. I don't think it's what Formula One is about. I think there should be a limit or, at least, a more clever way to improve the safety. I don't think the Halo is the right way. In general, I don't agree that safety always is number one. I think there is a limit where it becomes too safe to be exciting. Part of the reason Formula One is popular is because of the element of danger. It's moved on a huge amount in the last 30 years and that's been very good – but I think it's safe enough now that I can say it's exciting and it's right. It feels right to go racing. We could always make it more safe, we could make the cars go maximum 80km/h and it would be completely safe – but it would be very boring. You can always make it safer but you will make it less exciting and that's my problem with it.
And Stoffel, your thoughts?
Stoffel VANDOORNE: Yeah, I think aesthetically it's definitely not the nicest thing we've put on the cars and I think a lot of people agree with that – but we've been pushing to improve cockpit safety, to improve head protection. I think the FIA have done a lot of investigations on what would be the best solutions, trying a couple of different solutions with the screen being tested in Silverstone as well. I think for them that was the best solution. So, yeah, I don't think it's a big surprised to see it in 2018 on the cars.
Q: Max, if we can come back to you now. It's been a difficult opening ten races of the year for you; five retirements but Red Bull team principle Christian Horner has said this week that in adversity, you're becoming a better driver. I just wondered if you agreed with him.
MV: It's nice to hear. No I think it's always the target to improve every single year so I think I definitely improved again compared to last year but it's a bit difficult to… or it was difficult to show, of course, when you retire but luckily in Silverstone I had no issues but we still need to be honest to ourselves and now there was an issue on the other car, so we still need to be more reliable I think. We'll start here in Hungary and see how it goes.
Q: And how do you rate your chances this weekend? Red Bull's been on the podium every year for the last four years; is that your expectation?
MV: We have to wait and see how the updates will work but also from the guys ahead, because they are not standing still. So hopefully we will be close but of course in Silverstone we went a little bit in the wrong direction but if you look to the previous races I think we were actually catching up so let's try to continue in that way and hopefully we will find a good balance and then I'm sure if there are some things happening like they always do here I think in Hungary, then we have a good chance.
Q: Sergio, coming back to you: the Hungaroring hasn't been that kind to you during your Formula One career. I just wonder, given the team's form this year, how confident are you of being competitive?
SP: I think yes, we have improved the car in terms of making the car more consistent. We might not have a circuit where we go really well and one that we go really badly. I think we've been in our fight, in the midfield, we've been the most consistent team and that's thanks to the car being consistent pretty much on every track. So I think here we can be in the challenge. I think obviously we will have the McLarens, the Haas, the Renaults, the Toro Rossos – they will be quite strong around here. But I expect ourselves to be in that fight, in that mix and hopefully score very good points on Sunday.
Q: The driver silly season is in full swing and I would just like to ask you about that if I may. Force India has clearly made a step forward this year; are you confident they can make another step next year and do you want to make that step with them?
SP: I think the team has been moving forwards every year, you know? Although last year we achieved the same position which we have now which is fourth, I think we have consolidated that four place. I think the team is moving forwards; there is a lot more interest in terms of sponsorship into the team, more investment but it's not easy to make the next step with the big boys, with the big teams, it's not easy. In terms of my future, I just hope that once I come back to the next race, after the summer break, I can have a new contract.
Q: A new contract with Force India.
SP: That would be good you know, but you never know what will happen.
Q: Kevin, talking of contracts, Gene Haas has confirmed that both yourself and Romain will remain with the team in 2018. How important is that stability both for you personally and for the team?
KM: I think it's important for both. I knew, when I signed the contract, there were two years, so it's not news for me but it's good of Gene to tell everyone and make it… now we will have the questions so hopefully no more of those kind of questions for the rest of the season. It's nice to be in that situation because for the last two seasons I've done in Formula One it's been always frustrating to talk about contracts every races in the last part of the season. Now, it's clear what the plan is so we can focus on racing and just push freely and not worry about anything – just go racing as hard as I can.
Q: And do you work well with Romain?
KM: Yeah, I think so. It's a good relationship and I think the support we have from the team is fantastic. It's a very good environment to be in as a driver. The trust that we get from the team is very big and I think we're both performing well and I can certainly learn from him and I hope he can learn from me as well so we can push each other forward and help the team that way.
Q: Stoffel, so halfway through the season, how do you reflect on progress, both for you personally and for McLaren?
SV: Yeah, for us it's been a difficult start to the season, Not a surprise, I think we've had a lot of technical problems to start which compromises a lot of our running, let's say, but I think since we've made good steps forward. It's still not perfect, we know that, there's still a long way to go but we've definitely improved on the chassis side, engine side as well, so I think everything is going in the right direction. We're still a long way off, that's true but I think the recent races have shown some good progress and yeah, I'm comfortable with the car which is performing very well like this weekend as well for us should be a good opportunity so yeah, I'm looking forward to the remainder of the season to hopefully continue that trend.
Q: You said a moment ago you're still a long way off but equally this weekend should be a good opportunity; what is it about the Hungaroring that lends itself to your car?
SV: It's a very twisty circuit, a lot of corners, we know our chassis is performing well in these corners. It's a bit like Monaco without the walls, let's say and it's also one of the circuits where the power sensitivity is a bit lower. On paper it's a chance for us, this weekend but yeah, it's not a given for sure, so we need to be focused on getting the maximum out of our package and then hopefully we will be rewarded with a good result.
QUESTIONS FROM THE FLOOR
Q: (Ysef Harding – Xiro Xone News) We've got a big weekend, summer break coming up. Where are you guys going: Barbados, anybody for California, anybody for Hawaii? What have you guys got planned for the summer break?
KM: Not too much, really. I'm going to relax as much as I can, recharge the batteries. I have no plans so I will see what I do.
SP: For me, no Barbados. I go to California.
MV: Yeah, some friends and family holiday.
Q: Are you going to tell us where?
MV: No.
SV: I know where Maxi is going but… I'm going to Montenegro with a few friends and then the rest of the time I'll just chill out in Monaco.
Q: (Tomasz Kubiak – SwiatWyscigow) Question to the three drivers who took part in last year's race: the track limits were enforced electronically then. Were you in favour of that solution over some of the aggressive kerbs that are damaging the cars on some tracks?
MV: It's not ideal for our car because of the ride height we are running. It's easy to destroy your front wing or the front of the floor so it's not great and I think we can still fine tune it a bit but in one way you have to stay off them. It's not too bad but it's not fantastic yet.
SP: I think it will be very difficult, you know, to have this electronic system where it slows you down and then you can create a massive shunt behind you so I don't think it's the right way to go. These cars go really fast, they're not like indoor karting where if you are crashing around, they can slow you down. The difference in speeds can be really big so I don't think it's the right way forward: going off and manually, electronically reducing your speed.
Q: So you think the kerbs is a good solution.
SP: Yes, I think so.
KM: I think the kerb's fine.
Q: (Jerome Pugmire – AP) Max, Mercedes announced that they're going to go into Formula E. I just want to know what you think of the sport; do you think it's exciting, perhaps not fast enough for somebody like you? What do you think of it?
MV: It can be a bit faster, I think but that will… you know the evolution with the cars for sure, that will be done and I think the rest… yeah, there are some exciting races, absolutely. I try to watch it and I think you also have to get rid of the pit stop where you have to jump in another car but of course that's going to happen, so we will see what happens there.
Q: (Péter Vámosi – Vas Népe) Checo, if you had the opportunity to rename the Force India team, what would it be? And of course is there any real opportunity that it will be Brabham?
SP: Force Mexico or Force Checo. Checo would be good. Couple of ideas for Vijay. I think the team is definitely moving in the right direction. Hopefully, very soon we can find out which name we will have for the future. I don't know anything about Brabham.
Q: (Velimir Veljko Jukic – Auto Fokus) For all drivers: next year, you will have more protection so will you risk more and push even more harder, even harder?
MV: That would mean you're doing a very bad job at the moment so I don't think so.
Q: (Rik Spekenbrink – Algemeen Dagblad) Max, I know it's hard to predict what an upgrade will do but what are you hoping for realistically?
MV: That we can close the gap to the guys ahead. I think that's the obvious target for us at the moment and then we will see what happens.
Q: (Erik van Haren – De Telegraaf) Max, do you think this track is better for you guys and especially as at Silverstone you said you didn't have enough pace there, when you look at Ferrari and Mercedes? Do you think it will be better for you here?
MV: We hope so. In general it should be a little bit better for us, also like Stoffel said, the power sensitivity is not as big. But still, you need a good balance and we have to try and work on that.
Q: (Sura'nyi Géza – Heves Megyei Hirlap) To all drivers: going back to the halo thing, do you think it's disturbing for a driver from the point of view that it's difficult to see from the car when the halo is on and do you think that it will impact your driving?
KM: I think it could have an effect on tracks that are uphill, for example, turn one in Austin or Eau Rouge at Spa, you could struggle to see the top. But I've tried it once but not for very long so… Those laps didn't feel great, it's not a nice sensation to have something right in front of you.
SP: Yeah, I agree with Kevin. I tried it twice, I think, last year, just for a lap so I've done two laps with it, installation laps. I don't really have a lot of information with it. I don't know if we're going to be using the same halo as the one we tried last year, I don't know if it's going to be improved or if anything can be done in that respect.
MV: The one I tried I didn't like the visibility and the thing in front of you so yeah, it's not great. Don't like it.
Q: Stoffel, have you tested the halo?
SV: No, I haven't, I haven't tried it so I think those guys have a better vision of it as they've tried it so I don't know.
Q: (Viktor Bognar – Magyar Szo) To all drivers: just following up on the previous question: are you worried that sticking the halo in front of your eyes will take away some of the excitement of driving a Formula One car?
Q: Stoffel, you haven't tried it, are you nervous about having the halo and will it take some of the excitement away?
SV: It's difficult to say. For sure it will be different. Everything is always different when you put something new on the car and I think like the other drivers said, visually I think it will be a bit strange in the beginning but no one's really done a proper run with it, no one's really done a full day with it and seen how they adapted to different scenarios. I think we will have to wait and see until we actually get to do proper running with it.
MV: I think that as soon as I have that thing on my car I don't like it and I'm not even sitting in the car so the excitement has already gone before I'm even sitting in the car.
SP: As Vandoorne says, we are really far from that. Nobody has really done a day with it so we will see how it goes in Barcelona, the first time we will try it on track.
KM: Yeah, I agree with Max. It takes away some of the passion that Formula One is all about. When you look at the car it's ugly. Formula One cars aren't ugly, they're not meant to be ugly. That's the reason that a Ferrari is more exciting than a Mazda, it's something passionate and if it looks s**t, it is s**t.