Thursday's FIA press conference – part two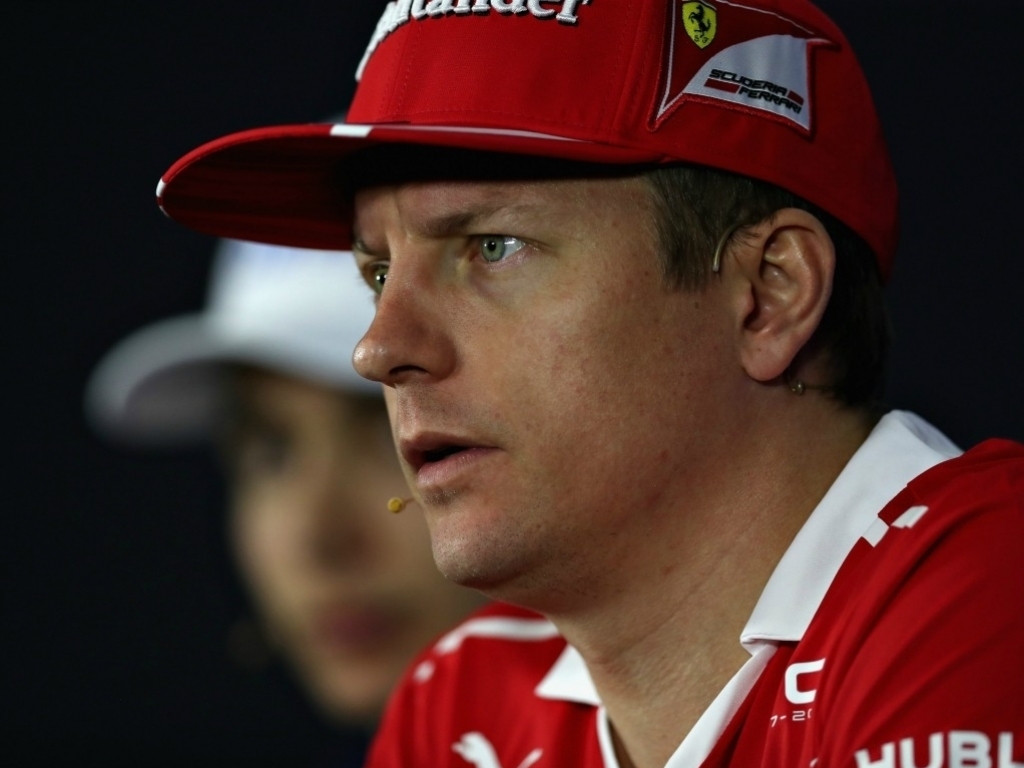 Kimi Raikkonen is his usual self in Brazil, and is joined at the table by Esteban Ocon and Brendon Hartley.
PART TWO: DRIVERS – Kimi RÄIKKÖNEN (Ferrari), Esteban OCON (Force India), Brendon HARTLEY (Toro Rosso)
Q: Brendon, congratulations, World Endurance Champion, once again, for the second time with Porsche. How did it feel jumping back into a WEC car after the Formula One, and how are you rationalising this very unusual life experience that you're going through at the moment.
Brendon HARTLEY: Yeah, it was actually surprisingly tricky to jump back into the car. I thought I was going to feel right at home – it's been my home for the last four years – but it took a couple of laps for it to feel comfortable again. The seating position's quite different from Formula One, having a roof over your head, different perspective – but yeah, after five laps I felt back at home. In terms of rationalising things, I guess I've tried to not overthink it and I've just… yeah… even winning the championship hasn't really sunk in. I haven't really had time to reflect. It probably helps that I'm just going from one weekend to the next. I think this is my sixth race in a row. It won't be until I get home at the end of the year after all the racing's over that I'll be able to reflect and fully understand what's just happened to me. I'm well aware that making my grand prix debut and Le Mans victory and World Endurance Championship… I mean they're all amazing things but at the moment I'm just trying to take one step at a time and try to stay focussed and catch up on as much sleep as I can.
Q: It sounds like you're set for a full season of Formula One next year, although obviously not official yet, but now you know a bit more about it, will your experience of working with a major motor manufacture like Porsche, do you think it will help Honda developing with Toro Rosso, taking that whole relationship forward?
BH: I don't know. What I do know is, from working with Porsche the last years, it made my transition quite smooth to Formula One because it's a similar amount of people involved; very similar structure in terms of engineering; pressure – I mean driving at Le Mans for Porsche, there's a big amount of pressure on your shoulders, so I guess all of those things I've learnt to deal with, so that was obviously very helpful going to Austin. Obviously there were a lot of other things to learn in Formula One and I'm well-aware that there's still a lot to learn but yeah, I think the good thing for me is that I've been involved in the past also with other Formula One teams and development and the project at Porsche, I was very heavily involved in the development on every level, so at least I have some experience from that point of view, yeah.
Q: Esteban, Force India confirmed fourth in the constructors' championship, it's your first full season but you've obviously played a key part in that. What does it mean for you, given the quality of the opposition you've faced this year?
Esteban OCON: It's been a great season for us. Of course securing the fourth place, it's an amazing achievement with two races to go. Thanks to the team, I would like to thank everyone. I can't thank everyone in here but a few key people: Andy Stevenson, Andrew Green, Tom McCullough, Otmar, I would like to thank everyone there for the great season we've had. Hopefully we can finish the last two races very well like we did before and start the next one as high.
Q: Some interesting numbers about you: you've out-qualified Pérez at the last four races in a row; you're the only non-Mercedes driver to start in the top six for the past four races, and you've led Pérez for 137 of the last 138 racing laps. So, is that in line with your expectations of yourself at this stage of the season, and how do you move forward from here in 2018?
EO: Yeah, I'm here to push. I'm here to challenge Sergio for sure, it's been a very close season with him, fighting with really little margin, that's what we have been doing so far this season – but arriving a second time on the tracks where I've driven before, with the Manor, helps me a lot with my experience, and also finishing all the races has helped me and I feel much more comfortable now than I've been feeling at the beginning of the season, so it's great.
Q: Kimi, ten years on – we all remember it very very well from that dramatic day when you won the World Championship here in Brazil, probably the widest smile you've had as a sportsman at least. Can you share some special memories of that day?
Kimi RÄIKKÖNEN: It's a long time ago. Obviously it was a great day but it wasn't just about the day, it was the whole year. Obviously it ended on that day but there were some great moments, some not very nice moments but in the end it worked out OK and I was very happy with it but – I don't know – I haven't really thought about it too much; obviously after that, yes, but not for a while because it doesn't really change my life today, thinking about it. I don't really try and make a big story out of it.
Q: This year, you've had a very good car and kept developing it very effectively so where does it go from here for Ferrari? You've talked a lot this season about a few fine details here and there which have been the things that have stopped you but tell us a bit about that, where the team goes forward next year and what your personal ambition is in 2018?
KR: Obviously I want to be fighting at the front every weekend, to be able to fight for the championship next year. I think we started pretty badly – we were not really where we should have been – a personal feeling on my side – we're not really happy where the setup was and it took quite a long time to figure it out and then since then it's been better but then we had too many DNFs for many different reasons but I think, as a team, we've come a long way from year to year and also from last year, made a good step, obviously not enough for what we want but as Ferrari we want to win both championships. But I think we had all the tools this year, we just need to tidy up things and not make mistakes nor have issues on any side, not from our side as drivers or from the team side. These are just small things which in the end played a big part this year, who won the championship and which way it went but I think we have all the people, we have the tools and we have a great car. There are still two races to go and even though the championships are done we try to do the same work we always do and try to win races and then, obviously, we start from zero next year so hopefully we will be up there.
QUESTIONS FROM THE FLOOR
Q: (Daniel Fideli – GloboEsporte.com) Brendon, you are used to winning races and championships as an endurance driver and you come to Formula One to race in a car that is not so good and mentally for you, how hard is it for you to come to Formula One and you know that you're not going to be able to win races and just fight for the midfield?
BH: I think as a driver you try and get the most out of whatever the situation is and I know for this weekend I have a firm goal of scoring my first point in Formula One. That would be celebrated, so I think so far from my experience in my two Grands Prix I had a lot to learn and a lot of small goals along the way and from my point of view it doesn't change much on how I approach the weekend and the team. I can guarantee every single person in Toro Rosso is working their utmost to get the most out of the weekend, whatever is possible, so that doesn't really change too much.
Q: (Gustavo Faldon – ESPN Brasil) Kimi, Felipe Massa is retiring; you were his teammate for quite a while. What can you say about him? How was your relationship and do you feel like he helped you win your title ten years ago?
KR: He's retiring again, so let's see if it actually happens or we will see him in the first race next year. I always had a good relationship with him, great atmosphere when we were at Ferrari together. We won two championships for the team as teammates and I think it was a great time. Obviously it was very fast, very good but I wish him all the best if he ends up (not) racing in F1 any more. We will see what comes in his life in the future.
Q: (Andrea Lopez – Motorlat.com) Kimi, there are only two races left this season; what is the summary you can make of your season this year?
KR: I think it's very simple that we are in the championship, that's how good or bad it's been. That's how it is this year and obviously we need to learn and make better things next year but we all start from zero next year and it depends on many things over the winter and over the testing at the beginning of the year. We will then get some idea of where we are going to be and then we see in the first races what will happen, but obviously the aim is to do better, to fight for wins and championships – that's, as a team, what we want to do and as a driver I want to do that. This year, for sure, in many ways could have been better but I guess it can always be worse also.
Q: (Lucas Santochi – Pole Position) Brendon, you talk about how your work with Porsche helped you to approach the Formula One weekend, but what surprised you like 'this is very difficult, I have to work on this' and if Esteban can comment about his experience when he came in too last year?
BH: Sorry, I'm just trying to think what surprised me the most – probably a lot of things. I'd been in the Formula One paddock before, 2008, 2009 – oh, sorry, 2009, 2010, OK. I didn't make a Grand Prix start but at least I had been in the paddock so there were a few familiar faces already. I guess at Austin, a big shock was the high speed, just in terms of a driving the car, it was quite amazing, these modern Formula One cars, how quick they are in the first sector in Austin, so that was pretty mind-blowing and it took some time to get confident. For the drivers who are driving weekend in and weekend out, they are probably… you always want more grip, you always want more power but coming straight in… that was quite a shock to the system. And other than that, I don't think there were any huge surprises in terms of difficulties. I knew it was going to be a challenge, I knew putting a Formula One weekend together is tough and I know that the level in Formula One of drivers and teams and everyone – there are some of the highest you can find so I guess in some ways there were no big surprises as I kind of expected that.
EO: I was very well prepared before arriving in Formula One. I was around in the paddock since 2014 so that has helped me a lot. I have been driving with many different teams in testing and then I went into DTM with Mercedes and I think like Brendon it's a bit the same way of working, with engineers, sponsors and then going back into the racing. It's a bit the same level of professionalism. It's just the specification of the category. I think you have to learn all the details and then be sure you are there when it's needed.
Q: (Jens Nagler – Bild) Esteban, there are quite some discussions about the future of Formula One, including a budget cap. Do you think a small team like Force India, assuming you work like you did this year, could have an extra shot at the title with such a budget cap?
EO: I think that's a very good question but honestly if everyone had the same budget I think some people would be surprised what Force India can achieve. At the moment, with the budget we have, what we are achieving is amazing, the level of work we are putting in is a lot but at the end the level is there and the performance is on track, so yeah, it would be nice.