Sebastian Vettel secured his first victory since the Hungarian Grand Prix after getting the jump on Valtteri Bottas at the start; World Champion Lewis Hamilton came from last to P4 on an entertaining afternoon in Interlagos.
Here's how the Brazilian Grand Prix unfolded…
Fernando Alonso was feeling pretty romantic ahead of the race, planting a smacker on Stoffel Vandoorne at the McLaren-Honda team photo.
And Lewis Hamilton was all smiles as he prepared to start the race from the pit lane following his Q1 crash on Saturday.
Felipe Massa took centre stage on the drivers' parade ahead of his final home race before he retires (we think).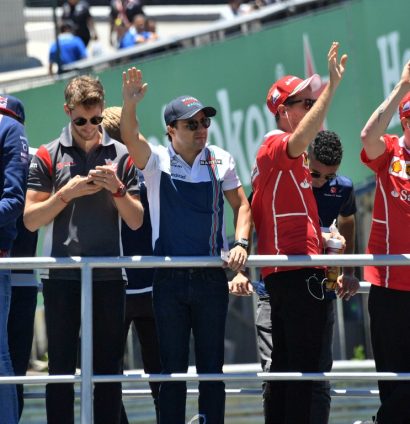 It wouldn't be an official starting grid without a few asterisks to sift through.
OFFICIAL STARTING GRID 👀

50 minutes to the start of the #BrazilGP 🇧🇷#F1 pic.twitter.com/lSqFlIOu7Z

— Formula 1 (@F1) November 12, 2017
And a problem with a Ferrari on the grid…
Electrical problem with Kimi Raikkonen's car on the grid.

Kimi (probably): "I try not to think too much about it. It doesn't change my life."#F1

— Planet F1 (@Planet_F1) November 12, 2017
It was a very eventful start in Brazil, with three retirements and Sebastian Vettel getting the better of pole-sitter Valtteri Bottas at T1.
LAP 1/71: SAFETY CAR

Drama at the start

Ocon: OUT
Magnussen: OUT
Vandoorne: OUT #BrazilGP 🇧🇷 pic.twitter.com/gK52yEgViG

— Formula 1 (@F1) November 12, 2017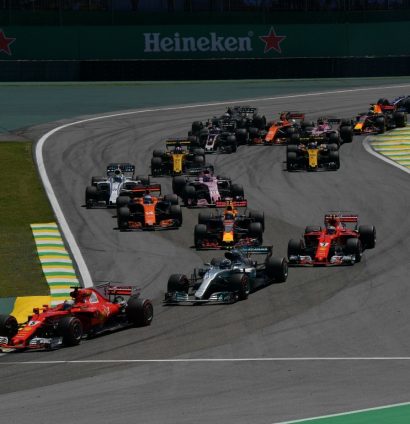 Esteban Ocon's record run of consecutive race finishes from the start of his F1 career (27) is now over at the Brazilian Grand Prix.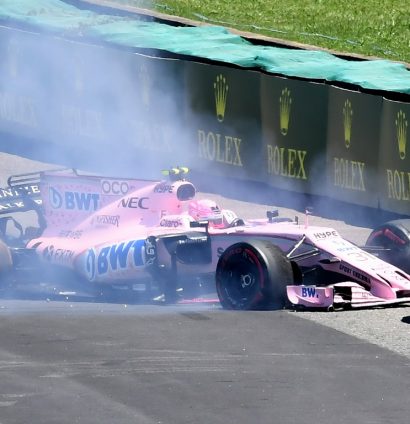 Once the Safety Car came in, Vettel managed the pace from the front as Lewis Hamilton and Daniel Ricciardo carved through the field from the back. Hamilton was up to P5 by lap 22.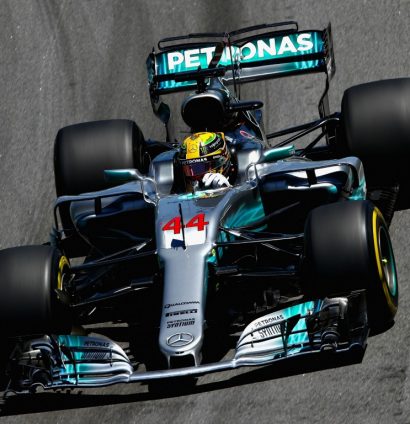 Vettel's lead came under threat when Mercedes tried the under-cut with Bottas, but the German just about held track position.
LAP 29/71: And Vettel emerges ahead of Bottas to retain his advantage

But only just 👀#BrazilGP 🇧🇷 pic.twitter.com/kwsbPdKalx

— Formula 1 (@F1) November 12, 2017
All eyes then turned to Renault v Toro Rosso as Brendon Hartley had to retire for a second race in a row because of an engine problem.
Not again 😔 @BrendonHartley has to retire the car #BrazilGP pic.twitter.com/nZoyVfHmN8

— Toro Rosso (@ToroRossoSpy) November 12, 2017
Once Hamilton pitted and re-emerged in P5, launching a charge for the podium with 30 laps to go…
Box. Box. Box. #LH44 is finally in after that MEGA stint! He's on to the SuperSoft and sets off after VER!

Guys, it's game on!!! 💪 #BrazilGP 🇧🇷 pic.twitter.com/8jI2vHAWlu

— Mercedes-AMG F1 (@MercedesAMGF1) November 12, 2017
Hamilton made light work of Verstappen for P4 and set about hunting down Raikkonen…
LAP 62/71: Hamilton up into P4 after passing Verstappen

Gap to Raikkonen in P3 = under four seconds 🤔#BrazilGP 🇧🇷 #F1 pic.twitter.com/hmAkDMlnWz

— Formula 1 (@F1) November 12, 2017
But Raikkonen held on to the final podium spot under big pressure in the dying stages.
The penultimate race of the season is now in the books…
INITIAL CLASSIFICATION (LAP 71/71)

Here's how they finished at the #BrazilGP 🇧🇷#F1 pic.twitter.com/gr8MjyFWTq

— Formula 1 (@F1) November 12, 2017