What would be your dream Formula 1 line-up?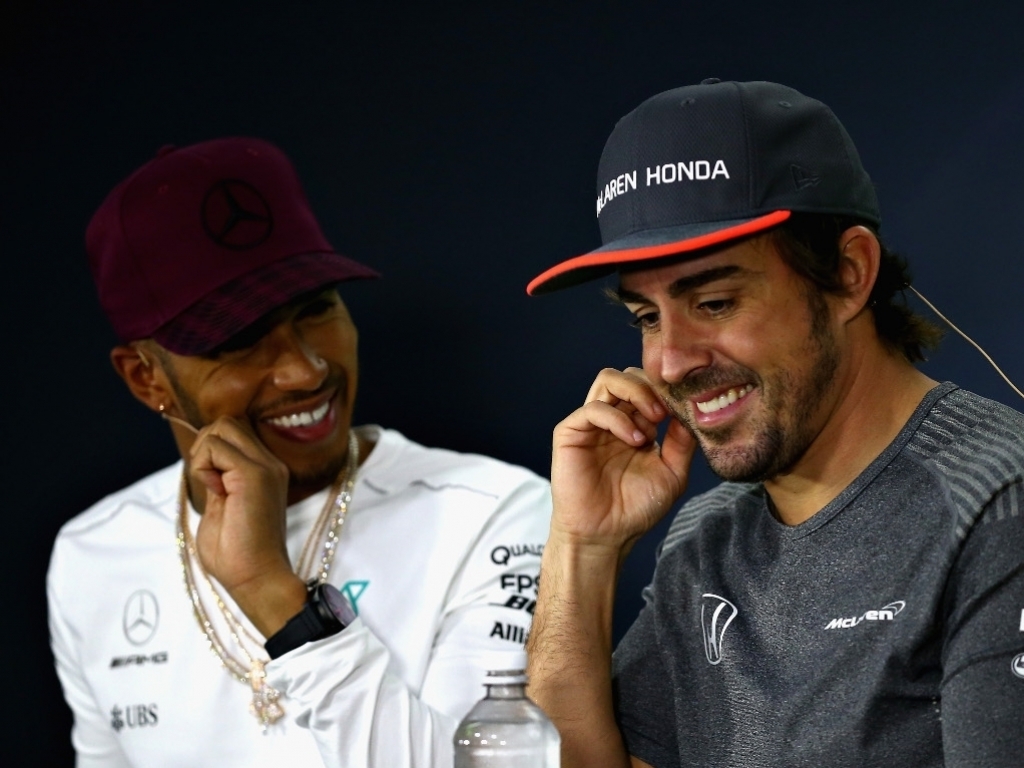 With the off-season still in full swing, there has been plenty of time to head into our own Formula 1 dream world. PlanetF1 readers have been picking their fantasy line-ups.
You can join the discussion here or let us know in comments section below what your ideal team would look like.
If you have anything else F1-related that you want to get off your chest, you can also e-mail us at PlanetF1@planetsport.com
Hamilton and Ricciardo?
I was having this discussion with a couple of mates about creating your own F1 team, out of the current crop.
You get to choose:
Two Drivers (this would have to be a realistic pairing that could work together)
Team Principal
Livery Colours (up to 3 colours)
Engine Supplier
Race Engineer
I went with:
Hamilton / Ricciardo
Christian Horner
Chrome / Black / Red
Mercedes
Peter Bonnington
Whereas one of my mates went for:
Alonso / Sainz Jr
Toto Wolff
Red / White
Ferrari
Rob Smedley
Thoughts? Yours?
Olly-44
Engine a no-brainer
Drivers: Alonso & Ricciardo
Team Principal: Christian Horner
Colours: Blue & White (Ecurie Ecosse or Border Reivers Racing colours)
Engine: Mercedes
Race Engineer: Peter Bonnington
If I wanted to go the No.1 driver route I'd switch out Ricciardo for Di Resta to get some Scottish presence on the grid and a solid point scorer otherwise I think Dan can work well next to a competitive driver like Alonso. I like Bono's style and Horner's BS can keep the press busy. Engine's a no-brainer.
Lotus49
Bottas out, Vandoorne in
Drivers: Hamilton Vandoorne.
Hamilton for the here and now, Vandoorne because I think he is as unthreatening to Hamilton personality wise as Bottas is in real life, but has a higher potential ceiling of performance which would be handy.
Team Principal: Christian Horner
An intelligent yet disingenuous weasel of a man… exactly the kind of guy you want on your side in the murky world of F1 politics. Plays the game as well as anyone, and I don't doubt that he is a racer at heart too.
Colours: Red and White with Gold trim in places (think Lotus)
Engine: Mercedes
Absolute no brainer here, no other lump matches performance with this level of reliability (yet).
Race Engineer: Rob Smedley
Yeah its a demotion for him but I reckon I could swing it
Flash2k11
Perez and Ocon: the perfect wing men
I'll take this as two questions. One is for who I would want in order to win right now. The other is who would I want for the next 10 years. For right now; my choices would be:
Drivers: Hamilton & Perez
Team Principal: Christian Horner
Colours: Black/Gold
Engine: Mercedes
Race Engineer: Guillaume Rocquelin
For the next decade, I would go:
Drivers: Verstappen & Ocon
Team Principal: Christian Horner
Colours: Black/Gold
Engine: Mercedes
Race Engineer: Guillaume Rocquelin
I would not attempt to team two elite drivers. I think in F1 that tends to work against you to some extent and it's much better to have one top tier guy and another driver who is consistent and quick but not quite on par with your top guy.
Hamilton is the best in the world currently for my money but I think he will retire within the next 4-5 years so if I knew I could have any driver for the next decade, I would have to go with Max.
For me, Max is clearly the best of the under-25 crowd and in fact once you get younger than Ricciardo (who is now 28 believe it or not) there is no other driver in the conversation with Max.
We'll have to see how Leclerc performs but Max is in a league of his own amongst the youngsters at the moment.
Both Perez and Ocon strike me as ideal #2 drivers on top teams.
I think the collisions are primarily owed to neither of them wanting to back down from the other guy but against a superior opponent.
I look at both of their excellent track records of consistent points finishes and I think that they would be ideal wing-men.
Sandman1347
History boys
Hamilton / Alonso
In their current mature state, with a mature no nonsense taking person at the helm, they could be kept in check and if that person is clever enough they can manipulate them into believing they could rewrite the history books and slide in alongside Prost & Senna as the greatest duo of all time.
Plus added incentivized bonuses can also contribute to civilized existence.
The Incubus (No reason I couldn't do it since I'm building myself a team!)
Red / White / Blue
Renault
I agree for parity – should Honda right the ship they'd be my #1… ALWAYS
Peter Bonnington
Keeping in mind his EPIC Blunder at Monaco & a few calls where Lewis questioned it correctly
James Allison
Added 1 more to the list because I feel engineers in this day and age have reared their heads in this ever evolving game of chess and James would be the guy I'd want to hire.
F1 MERCENARY
More from Planet Sport:
Tennis365 – If tennis stars were F1 drivers: who does the lion mane-haired Andre Agassi resemble?