Women in F1, the past, present and future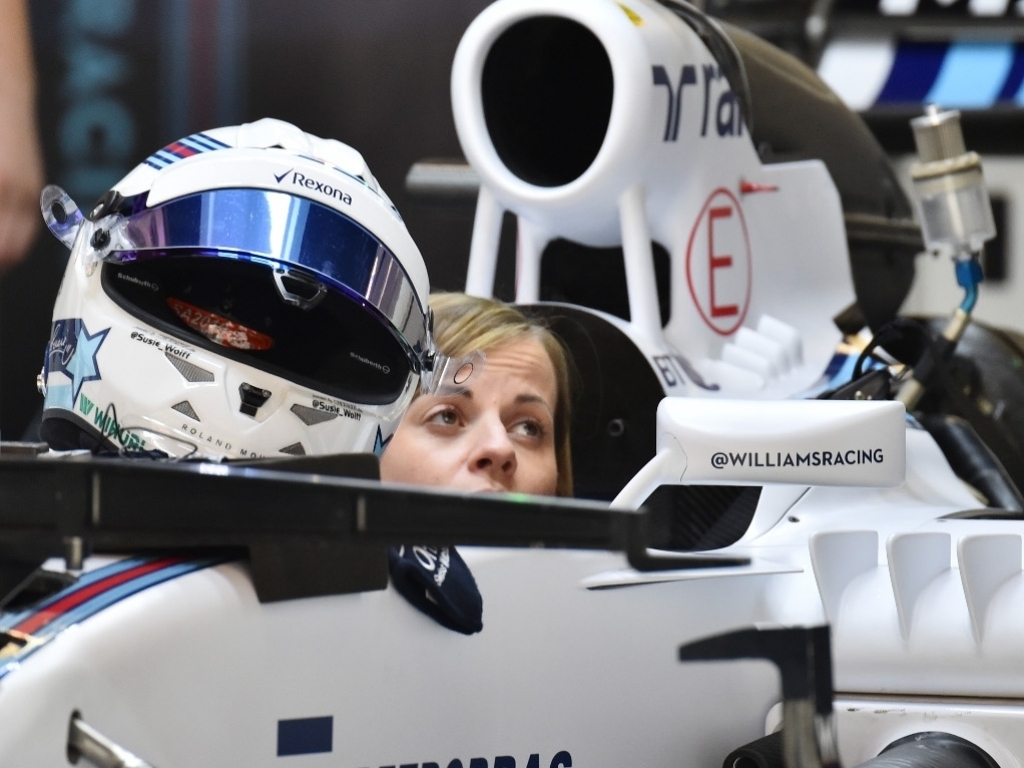 From the teams in the paddock there is growing excitement around the start of the new F1 season next month. 
Following on from the dramatic ending of last season, whereby Nico Rosberg won the championship and then retired, there is a lot of excitement as to who will win this year, with no defending champion to race against.
A particular talking point, as we approach International Women's Day, is the lack of females in the sport. Following on from Susie Wolff's MBE in the New Years Honours list, the 34-year-old is looking to launch an initiative to attract more females to F1.
There are few female drives in the sport and whilst the likes of Lewis Hamilton, Sebastien Vettel and Jensen Button are all household names, the women in the sport are almost unheard of.
There are just five women who have entered a Grand Prix; Maria Teresa de Filippis, Lella Lombardi, Divina Galica, Desire Wilson and Giovanna Amati. The late Maria Teresa de Filippis was known as Italy's "First Lady of F1" and started three Grand Prix in the late 1950s.
And although she faced great prejudice from some men of the sport, having competed in a number of prestigious endurance events including the Targa Florio and Mille Miglia, she won a huge fan in five-time world champion Juan-Manuel Fangio.
It was 15 years until we saw another woman on an F1 field but Lella Lombardi's arrival proved to be a game changer for the sport. Whilst she failed to qualify for the 1974 British GP in a privateer Brabham, she was more or less a full-time presence the following year, appearing a total of 11 times for March and once for Williams.
Lombardi still holds the accolade for being the only female driver with a points-scoring result, finishing sixth Montjuic Park in the 1975 Spanish GP. The Italian finished 12th in the 1976 Austrian GP, this remains the last time the men were joined by a woman on the starting grid. Following Lombardi's colourful F1 career, Divina Galica, Desire Wilson and Giovanna Amati all tried their hand at F1 but none proved to be as successful as Lombardi.
Following Amati's final attempt for Brabham at the 1992 Brazilian GP, over two decades passed before a woman even took to the track in a practice session. However, Wolff's retirement may spell good news for females and the sport if the expecting mother is successful in her plans to revive women in the fame.
It's essential that women must not fade from the view again and with Renault hopeful Carmen Jorda showing huge potential as a development driver for Lotus, it's an opportunity that should not go to waste. Simona de Silvestro and the late Maria de Villota have also tested F1 machinery in recent years but still Wolff is the only one who has made it as far as an official test session.
How long till a female driver takes to the F1 field again is anybody's guess, the foreseeable future may be deemed unlikely but if Jorda eager to take her chance, it's something we may see as early as 2018.
Unfortunately, it seems that women in F1 do not have the support of Bernie Ecclestone. The former CEO of the Formula One Group stated that females looking to participate in F1 "will never be taken seriously" because they "aren't strong enough or quick enough to drive". The 86-year-old followed: "The mental stress I think would be pretty difficult for a lady to deal with in a practical fashion."
Wolff was quick to lament Ecclestone's claims and was keen to reiterated that women's only racing was not the route to pursue.
And what a lovely tribute it would be to Maria Teresa de Filippis who, when asked if she wanted to see a woman in F1 again, she remarked: "Why not? Women can do everything men can", shortly before her death.