Pit Chat: Raikkonen teases Hamilton after victory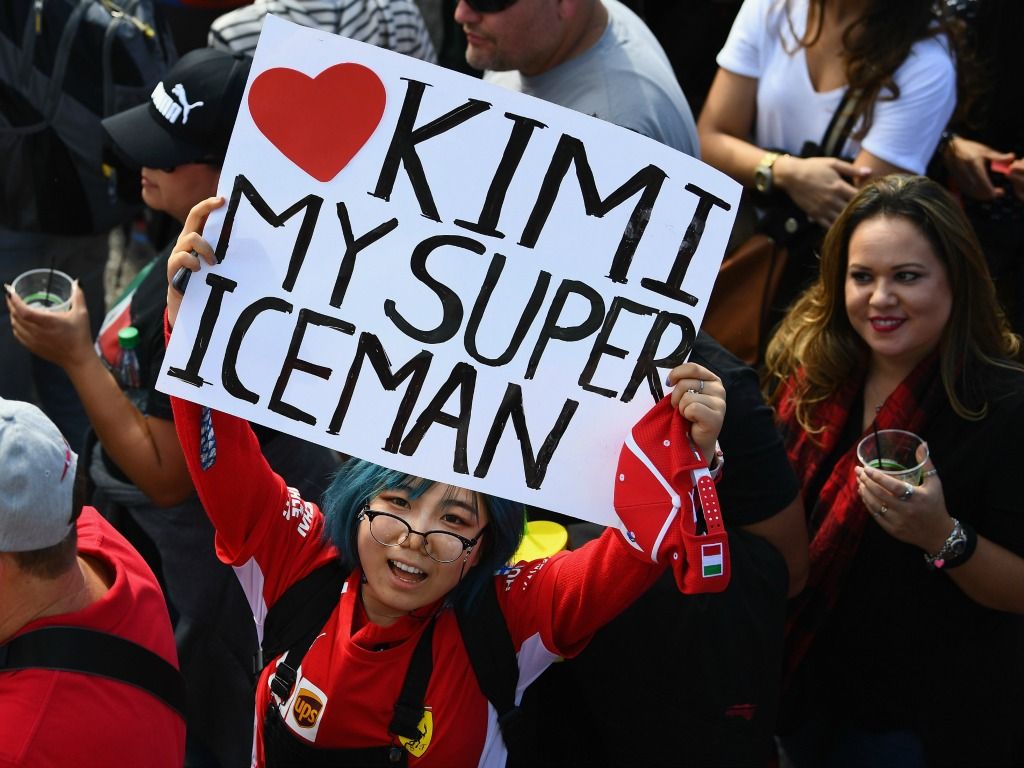 Kimi Raikkonen teases Lewis Hamilton after long-awaited victory, but Formula 1 still hasn't cracked America just yet. The best bits from the United States Grand Prix.
But first…
Who are you?
It looks like Formula 1 still has some work to do if they want to truly capture the attention of the United States of America.
David Coulthard tried his best to catch the eye, doing donuts on top of a Miami skyscraper. Thank God his foot didn't slip.
But DC still has some work to do on his profile, it seems…
A famous racecar driver just did donuts atop a Miami skyscraper. Wow, just wow. https://t.co/x5PF8AKM3s @HeraldSports @MiamiHerald @F1 pic.twitter.com/jmU3pVRiFG

— Miami.com (@Miamicom) October 18, 2018
If you think that was bad. Have a look at the image selected by Austin's American Statesman for Fernando Alonso in their race preview…
Yep, that's his impersonator. D'oh!
And not many know who Brendon Hartley is either, or where he comes from at least…
When they give you the wrong flag again, just rip it off!

🇦🇺 ❌
🇳🇿 ✅ pic.twitter.com/kCjcP3WfPd

— Toro Rosso (@ToroRosso) October 21, 2018
Wet, wet, wet
Before we were treated to an excellent qualifying and race, there was a pretty miserable, wet Friday to get through first.
Thankfully there were a few laughs to be had to help lighten the mood.
There's always time for a good pun…
Just call us Pollo Rosso this weekend #USGP 🇺🇸 pic.twitter.com/KfA2rXw7X1

— Toro Rosso (@ToroRosso) October 18, 2018
If only they had put it on the wing instead.
Meanwhile, at Red Bull…
And the clauses in Lando Norris' 2019 contract with McLaren became clearer as he was unveiled as Fernando Alonso's tea boy.

Here comes the Verstopper
Before we start heading over to Kimi, we have to mention Max Verstappen's "You always have to alert on a street circuit!" (copyright Jolyon Palmer) moment at the Circuit of The Americas.
Verstappen broke his suspension going over one of these in qualifying…
Meet the Verstopper. #USGP pic.twitter.com/MjVdvByMTi

— Circuit of The Americas (@COTA) October 18, 2018
If only he had taken his own advice…
D-Ricky Bobby
But while Max Verstappen recovered to an awesome P2 finish from P18 in Austin, the misery continues for Daniel Ricciardo. Just how unlucky can one driver possibly get?
At least he still gave us reason to smile with his perfect Texan accent which he definitely did not practice in the mirror all week.
Take 1:
Introducing the latest American driver in #F1! 🇺🇸

His name is, err… @danielricciardo? 🤔 #USGP pic.twitter.com/F5sUKWesie

— Formula 1 (@F1) October 18, 2018
Take 2:
F1's new American driver sure was happy with his qualifying performance 🤠#USGP 🇺🇸 #F1 @danielricciardo pic.twitter.com/iFPghDTDvB

— Formula 1 (@F1) October 21, 2018
Take 3:
This 'American' race car driver absolutely loves Austin… 😂 #USGP 🇺🇸 #F1 pic.twitter.com/f1G6XFMdZp

— Red Bull Racing (@redbullracing) October 21, 2018
And he was still his usual cheeky self as gatecrashed Max Verstappen's interview and got called an "eikel" for his troubles. That translates to "d*ckhead" by the way.
Kimi corner
It's still sinking in, to be honest. Kimi Raikkonen winning a Formula 1 race again 2,044 days after his last one. What a time to be alive.
He was in good form straight from the get-go as well.
Just try and watch this without laughing…@TedKravitz asks Kimi Raikkonen about his birthday celebrations and, well, Kimi was Kimi in response!

Full #USGP schedule: https://t.co/3DLYCwt5Q8 #SkyF1 pic.twitter.com/Rb8mqXb4H3

— Sky Sports F1 🏎 (@SkySportsF1) October 18, 2018
And there was this cheeky comment on team radio when Sebastian Vettel was told to move aside and let Raikkonen go and hunt down Lewis Hamilton.
Raikkonen: "Should I just let him past or what?!"

Engineer: "Yes, let him go."

Raikkonen: "So this is how it works…" #F1 #USGP

— Luke Smith (@LukeSmithF1) October 21, 2018
He saved his best until last, though, in the cool down room, asking Hamilton a question he very much knew the answer to.
Kimi Raikkonen: "Did you win the championship?" 🤭

Lewis Hamilton: "No." 😐

Be honest, Kimi, you knew the answer already didn't you? 😅

Cheeky lad! 😉#C4F1 🇺🇸 #USGP pic.twitter.com/XzxcllRaSE

— Channel 4 F1® (@C4F1) October 22, 2018
And, less is always, always more when it comes to 'The Iceman'.
The construct of what a Haiku should look like has also been teared up and thrown out of the window.
Kimi. Legend. pic.twitter.com/N1MZ3TfJGe

— Giedo van der Garde (@GvanderGarde) October 21, 2018
We head out of Kimi corner with this message.
| ̄ ̄ ̄ ̄ ̄ ̄ ̄ ̄ ̄ ̄ ̄|
Kimi for
president
|___________|
(•◡•) /
/
—
| |

— Planet F1 (@Planet_F1) October 21, 2018
Not out of the woods
If there was one sour note to Kimi Raikkonen's victory, it was this uncharacteristic emoji response from Ferrari.
🤫

— Scuderia Ferrari (@ScuderiaFerrari) October 21, 2018
As lovely as it was to see Ferrari come back to life in the US. One victory does not make up for all the mistakes made that has left you on the brink of losing both World Championships which you arguably should have won.
Any other business
Blue Peter turned 60 in the past week so it seems only right to dig up when Lewis Hamilton was on there as a little kid. Wonder what ever happened to him?
Nico Rosberg suffered from relatively short-term memory loss…
sorry guys this must be fake. I cannot remember https://t.co/A4SP7h9jaJ

— Nico Rosberg (@nico_rosberg) October 20, 2018
Some Ferrari fans have not taken their latest season slump well.
And Christian Horner had an alternative idea on how Ferrari could beat Lewis Hamilton at COTA.
"How would you play this one out if you were Arrivabene and take the battle to Hamilton?"
Horner: "I'd get Kimi to put Lewis in the fence at Turn 1 and go from there."
Last word
Over to you, Kimi…
2,044 days after his last win, Kimi sums up his feelings… #USGP 🇺🇸 #F1 pic.twitter.com/Zm2j6itcv6

— Formula 1 (@F1) October 22, 2018
Onto Mexico…
Follow us on Twitter @Planet_F1 and like our Facebook page.