Memorable meltdowns and temper tantrums: Five drivers who lost their cool on team radio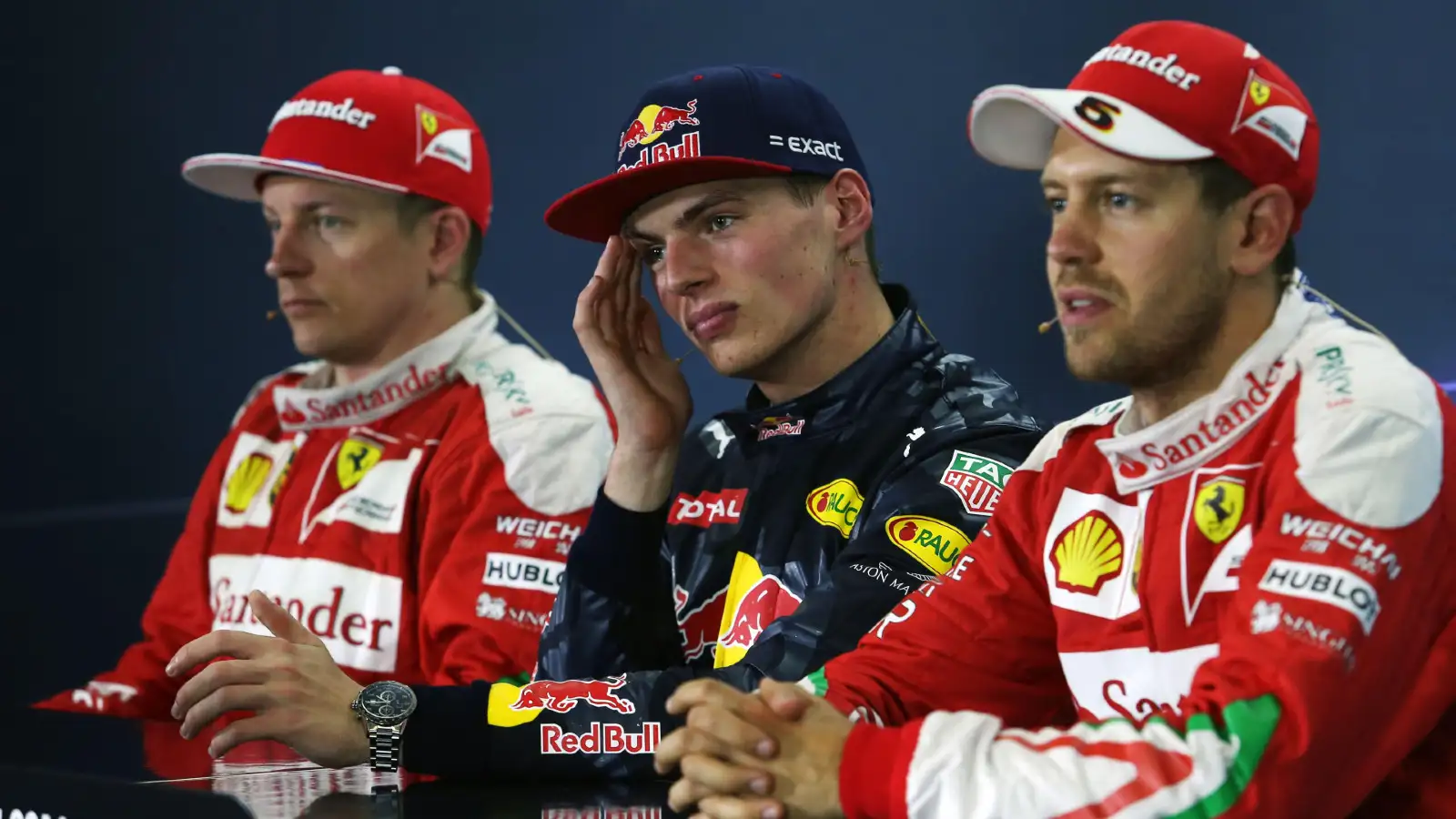 In recent years, half the fun of a Grand Prix comes from hearing drivers getting on the team radio to vent their frustrations as things go against them on track.
Here are some of the most memorable driver meltdowns in recent times…and bring some pennies for the swear jar.
First stop? Well, let's head to Barcelona, shall we?
Yuki Tsunoda – 2021 Spanish Grand Prix
The Japanese driver earned a reputation for his incredibly hot-headed radio outbursts during his rookie season in 2021, which might have been amusing if Tsunoda had shown more speed and talent to offset the anger.
On a weekend when he would heavily crash his AlphaTauri in Q1, and get a five-second time penalty for exceeding track limits, Tsunoda lashed out at Sergio Perez during practice as he felt the Red Bull driver had blocked him.
"F**king Perez, this guy doesn't even look! He's a c**t," was the message from Tsunoda.
But it was the Spanish Grand Prix weekend that revealed how the emotional Tsunoda was testing the patience of his team as he asked his engineer not to radio him on entry into corners as he seemed to start winding himself up.
"Yuki, calm down. We'll improve for the next," said his engineer, only for Tsunoda to scream in anger after being eliminated in Q1: "I can't f**king believe this car."
Team boss Franz Tost would go on to say how Tsunoda's biggest weakness was his inability to control his temper over team radio, with the now considerably calmer AlphaTauri driver admitting he had to address his temper to start improving.
"Controlling myself is now the main topic for me now, 100%, and especially in Barcelona I was fully out of control," said Tsunoda on the Beyond the Grid podcast that summer.
"I don't know why but I just pressed the radio. I didn't have to, but I just pressed the radio. I don't know why but I had to shout at them.
"This is definitely now my weak point and I have to now really improve on this radio communications. And from there it was getting better for radio things and I think it could be [even] better."
Kimi Raikkonen – 2017 Azerbaijan Grand Prix
In stark contrast to his laidback demeanour with the media and in the paddock, the Finn could be extremely fired up over team radio.
While there had been plenty of sardonic and shouty moments from Raikkonen over his two decades in the sport, it's perhaps the 2013 Indian Grand Prix that was one of Raikkonen's more serious radio messages, given that there was no amusing humour or light-heartedness behind the incident.
After the honeymoon of 2012 as Raikkonen returned to F1 with plucky underdogs Lotus, the relationship between Lotus and Kimi Raikkonen broke down towards the end of 2013 – to the extent of outright sourness. This was particularly obvious at the Indian Grand Prix, when trackside operations director Alan Permane told Raikkonen "Kimi, get out of the f**king way" of teammate Romain Grosjean as the French driver was far quicker on a different tyre strategy.
It led Raikkonen to say "Don't shout there f**ker! I get out of the way when I have a chance, but not during fast corner." It resulted in Lotus having to issue a public statement after fan backlash, decrying the words of Permane as unacceptable in a professional environment.
After being disqualified from qualifying at the following race in Abu Dhabi, before a first lap collision, Raikkonen decided against finishing the season and walked away from Lotus before joining Ferrari for a second time.
There was also the time when Raikkonen appeared to threaten Sergio Perez after being hit by the then-McLaren driver into the chicane at Monaco: "That f**king idiot. I wanna hit him when I see him, for sure. He hit me now on the rear."
At the other end of the scale, other infamous Raikkonen radio messages include the "just leave me alone, I know what to do," as he closed in on the race victory, as well as "You forgot to connect the drink?" exchange with his engineer.
But Raikkonen's most famous tirade is probably when he found himself being pushed, in his car, to the end of the pitlane at the 2017 Azerbaijan Grand Prix to resume after a red flag. Sans gloves and steering wheel, Raikkonen got on the radio to engineer Mark Slade.
"Get my gloves and steering wheel. Gloves. Mark, gloves!" Raikkonen shouted.
"Steering wheel, gloves and steering wheel, yeah. Ey, ey! Steering wheel! Somebody tell him to give it to me. Come on! Move!"
Max Verstappen – 2018 Brazilian Grand Prix
Known for his fiery temper and testing the patience of race engineer Gianpiero Lambiase, Max Verstappen has had numerous expletive-filled radio explosions over the years.
Starting from third place on the grid at the 2020 Tuscan Grand Prix, Verstappen made an initially good getaway only to slow dramatically as it became clear the Red Bull wasn't at full power.
"Ahhh no power, f**k!" Verstappen shouted down the radio as he tried to pick his way through the opening corners without incident. But, with the field swarming around him, Verstappen was hit by Pierre Gasly and he spun off into the gravel to retire from the race.
Having retired from the previous race, also in Italy, with a power unit failure as Honda hadn't yet quite hit their stride, Verstappen lashed out at the team's lack of reliability.
"Yeah, I'm stuck!" he shouted. "This is what you f**king get with this f**king s**tshow! Honestly!"
Another example of Verstappen's anger includes a moment from the 2020 Portuguese Grand Prix. Verstappen hit Stroll going through Turn 1 as the Canadian driver turned in for the first corner – neither driver had seemed to want to give way, with Verstappen possibly under the impression that Stroll had completed his flying lap: "Is this f**king guy blind? What the f**k is wrong with him? Jesus Christ, what a r****d!"
But Verstappen's most temper-fuelled moment came at the 2018 Brazilian Grand Prix. With Verstappen leading the race at Interlagos, the lapped Esteban Ocon attacked Verstappen on fresh tyres to try unlapping himself – only to collide with the race leader.
It was a particularly contentious moment as Lewis Hamilton inherited the win, given Ocon's ties to Mercedes at the time, and Verstappen couldn't control his temper as he came to terms with what had happened.
"What a f**king idiot! What a f**king idiot! I may have massive floor damage…f**k!" he said.
"I know what to say. I hope I can't find him now in the paddock, because then he has a f**king problem. What a d**k."
Verstappen would indeed encounter Ocon at the FIA weighbridge, squaring up to the French driver and pushing him twice as he wasn't happy with Ocon's attitude to the collision. The stewards at the weighbridge intervened to calm the situation, with Verstappen summoned before the stewards after escalating the situation to a physical confrontation.
Verstappen would end up being hit with two days of public service for the FIA after being found to have 'started an altercation' by 'pushing or hitting Ocon forcibly several times in the chest'.
Sebastian Vettel – 2016 Russian Grand Prix
Vettel was enraged after being hit from behind in two consecutive corners on the first lap of the 2016 Russian Grand Prix, with both impacts resulting from Daniil Kvyat misjudging things.
Tapping the rear of Vettel's Ferrari under hard braking for Turn 2, Vettel suffered a right-rear puncture but, not realising this immediately, tried to continue. Unable to take the high-speed Turn 3 at full speed, Vettel slowed in front of Kvyat – only for the Russian to hit the Ferrari once again, with Vettel spinning off into the barriers.
"Oh for f**k sake man!" Vettel shouted down the radio.
"Who the f**k? Oh I'm out! Crash! Somebody hit me in the f**king rear, Turn 2, and then somebody hit me in the f**king rear again at Turn 3! For f**k sake, honestly. What the f**k are we doing here?"
Vettel may have still had some sway at Red Bull at the time, as Kvyat was demoted from the senior team back to Toro Rosso before the next race – handing Max Verstappen the seat he holds to this day.
The timing of Kvyat's mistakes couldn't have been much worse – just two weeks after Vettel had a very public go at the Russian driver in the cooldown room at the Chinese Grand Prix. While both finished on the podium, an innocuous "What happened at the start" from Kvyat resulted in Vettel rounding on him to exclaim "you!" before admonishing the Red Bull driver as Kvyat attempted to protest his innocence.
"No, no well!" Vettel said. "You came in like a torpedo. If I kept going on the same line, we crash."
Sebastian Vettel – 2016 Mexican Grand Prix
Vettel may have become much calmer during his later years in Formula 1 but, just a few short years ago, the German driver could be provoked into apoplectic rage equivalent to any of them.
For newer fans of the sport, it may be unthinkable that it's Vettel, and not the easily enraged Verstappen, that tops the list for driver meltdowns but, back in 2016, Vettel lost his sacred mind during one particularly trying Grand Prix.
In the closing stages of the race at the Autodromo Hermanos Rodriguez, Vettel found himself the meat in a Red Bull sandwich, with Verstappen ahead of Vettel who, in turn, was just ahead of Daniel Ricciardo.
Attempting a move on Verstappen into Turn 1, the Dutch driver locked up and sailed across the grass and maintained position ahead of the Ferrari driver.
"OK give the position, I think you're going to have to give the position, Max," was the message sent to Verstappen, but there was no immediate moving aside from the Dutch driver.
Realising that Verstappen wasn't letting him through, Vettel began losing his cool: "He has to let me go, he has to let me go."
Being told to stay calm, Vettel responded: "No it's not right. I don't stay calm. Because he's just blocking me into Ricciardo….Move, move for f**k sake!"
Upon being told that Verstappen had been told to move aside, Vettel found himself having to defend against Ricciardo and said: "He is a *unknown expletive* that's what he is. I mean am I the only one or are you not seeing what I'm seeing? He's just backing me off into Ricciardo. F**k me."
The situation then escalated as Ricciardo attacked Vettel, only for the Ferrari driver to move under braking to block the advances of the second Red Bull. Vettel radioed in to say that Verstappen had brake-tested him, and said: " He has to give me the position. End of the story."
With his engineer telling him that then-Race Director Charlie Whiting had said something, Vettel interrupted to show the full extent of his anger at how the situation was being handled by Race Control.
"Yeah? You know what? Here's a message to Charlie: F**k off. Honestly, f**k off!"
Sending such a message to the Race Director resulted in Ferrari team boss Maurizio Arrivabene intervening to radio Vettel: "Sebastian, Sebastian calm down. They are under investigation – I know that it's not fair. But calm down. Put your head down and we will talk afterwards."
A chastised Vettel acknowledged the authority of his boss and said: "OK, copy Maurizio. I think I showed enough. I mean, overtaking is not a walk in the park. So to me it is clear. That's the last what I'm saying."
While Vettel may have had a point regarding how the situation on track was handled, his conduct could have resulted in a very serious investigation before an FIA tribunal. However, the situation didn't need to escalate much, as the German driver showed his class by immediately seeking to make amends towards the people he had blasted over team radio.
"Immediately following this incident, Sebastian Vettel spontaneously sought out Charlie Whiting to express his regrets for his behaviour in person," the FIA said.
"He then, again on his own initiative, sent letters to each of the FIA president Jean Todt and Charlie Whiting, in which he apologised profusely for his actions. He also indicated that he would likewise be contacting Max Verstappen and vowed that such an incident would never occur again.
"In the light of this sincere apology and strong commitment, the FIA president has decided, on an exceptional basis, not to take disciplinary action against Mr. Vettel by bringing this matter before the FIA international tribunal."
Weeks later, at the Brazilian Grand Prix, Whiting and Vettel shook hands in view of the world's media at the FIA Press Conference, and the matter was closed.
Honourable mentions
Lewis Hamilton – 2022 Dutch Grand Prix
Lewis Hamilton isn't the most hot-headed of the current drivers over team radio, rarely losing his cool to the point of outright anger, but the seven-time World Champion couldn't hide his unhappiness after George Russell was brought in to change tyres late in last year's Dutch Grand Prix.
Realising that Mercedes had pitted Russell but left him out to fight on much older tyres, Hamilton said: "I can't believe you guys f**king screwed me, man. I can't tell you how pissed I am right now."
Fernando Alonso – 2012 Bahrain Grand Prix
Attempting to pass Mercedes' Nico Rosberg on the run up to Turn 4 early in the 2012 Bahrain Grand Prix, Alonso found himself run out of room as Rosberg firmly closed the door in the Spaniard's face.
Ending up on the 'sand' at the side of the track, Alonso was enraged as he felt Rosberg hadn't left him enough room – leading to a particularly infamous Alonso radio call.
"OK, he pushed me off the track," he shouted.
"I think you have to leave a space, all the time you have to leave a space, OK?"
Juan Pablo Montoya – 2002 Belgian Grand Prix
Attempting a fast lap at Spa-Francorchamps in practice, the fiery Colombian encountered a slowing Kimi Raikkonen just at the braking point for the old Bus Stop Chicane.
Raikkonen undoubtedly hampered Montoya's final sector, with the Williams driver getting on the radio to deliver a short but sweet radio message: "F**king, f**king Raikkonen! What a f**king idiot!"